By Mami Katsumi, University Education Administrator at Nagaoka University of Technology
Sep 26, 2022
My parents and I liked Shinzo Abe because he loved Japanese culture. My parents run a kimono shop. My mother is a Japanese
Tea Ceremony (Omotesenke)
teacher, and my father is a Deputy manager of the Kochi prefecture branch.
Up to his assassination. he has been the Manager of the Yamaguchi prefecture branch. After his assassination, he has been filling the post of Emeritus manager of Yamaguchi prefecture branch. Now, his brother Mr. Kishi is the manager of it. Not only Mr. Abe, ex-prime minister Mr. Obuchi and ex-prime minister Mr. Hashimoto were also members of Japanese Tea Ceremony (Omotesenke).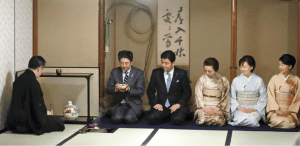 Shinzo Abe participating in Japanese tea ceremony (Chanoyu). Photo by http://www.omotesenke.jp/
Chanoyu is a cultural and spiritual experience in which the minds of host and guests communicate with one another through the enjoyment of delicious tea together. Mr. Abe loved Japanese culture. He has a deep understanding of Japanese tradition and culture, and of course foreign affairs, too.